Good morning,
Just like Marmite, it's a proposition that you're either going to love or hate. 
And it seems shareholders in Unilever are firmly in the latter category as the company's leadership attempts to shore up support for its plans to ditch London in a move that would consolidate its legal headquarters in Rotterdam.
They better get cracking, given that the move requires 75% support to be passed and amid signs yesterday that shareholders were in no mood to pipe down. So far, four institutional shareholders including Aviva and M&G Investments, which represent more than five per cent of Unilever's UK listed entity, have publicly raised concerns. Columbia Threadneedle went further to suggest that it is "still of the view that Unilever's approach discriminates against UK shareholders".
Under the terms of the plan, Unilever will merge its two holding companies in one single Dutch holding, headquartered in Rotterdam with shares indexed in the Euro Stoxx 50, also introducing a "one share, one vote" principle and plans for annual elections of directors. Discussions have also been a long time in the works – the company claims the proposal has been on the table for some 18 months and, only finally announced in March, it will end an 88-year old dual governance structure.
Unilever's chairman, Marijn Dekkers, gave it the hard sell yesterday by penning an op-ed in The Telegraph explaining his company's decision to jump ship. Dekkers wrote simply: "Rest assured that reports of Unilever leaving the UK could not be further from the truth." That is perhaps fair enough given that two of Unilever's three operating divisions will remain in the UK, equivalent to nearly two thirds of turnover (£) 
And yet, curiously, the dreaded B-word was nowhere in sight. For as Alistair Osborne comments this morning in The Times, apart from the UK's departure from the EU, Unilever's decision 'to go Dutch' makes little business sense. (£) Sure, the company has Dutch co-leaders. But at the heart of it, maybe Holland just offers a more amenable corporate environment to Unilever's mantra of "sustainable living" than the cut-and-thrust of the City?
 Something tells me that shareholders are yet to be convinced, meaning Unilever's leaders must cough up more credible excuses if they are to win the day at the vote on 26 October.
News
Prime Minister Theresa May has said it would "not be in the national interest" for a general election to take place before the UK leaves the EU in March 2019. Speaking to journalists at a gathering of global leaders at the United Nations in New York yesterday, she dismissed newspaper reports of Brexit contingency planning for a general election, insisting that government and parliament had a duty to deliver on the 2016 referendum result.
Also speaking in New York, President Trump was met with laugher from global leaders when he claimed that "in less than two years my administration has accomplished more than almost any administration in the history of our country." (£)
Jeremy Corbyn will use his leader's speech to the Labour Party conference today to vow that a Labour government would create over 400,000 jobs as part of a "green jobs revolution". He will also commit Labour to a target of sourcing 60% of the UK's energy from low carbon and renewables sources, boosting it from a current level of 30%. Yesterday, party members voted in favour of a referendum motion that would "keep all options" on the table – including the option to Remain in the EU - if parliament becomes deadlocked over Brexit and a general election is not achievable. 
Former French prime minister Manuel Valls has formally announced his candidacy to become mayor of Barcelona. Valls was born in Barcelona to Catalan and Swiss parents, but grew up in France where his bid to be nominated as the Socialist candidate for the presidency foundered last year. On announcing his bid, Valls criticised the Catalan independence movement, saying the "separatist process has failed". (£)
Business & Economy
Banco Santander has named UBS's head of investment banking, Andrea Orcel, as its new chief executive. The FT reports that the appointment highlights a change in direction towards commercial banking and acquisitions, and away from trading and advisory services. Italian-born Orcel joined UBS in 2012 and has gained a reputation for effective cost-cutting measures, including more than halving UBS's balance sheet during his tenure. (£) 
The leader of Argentina's central bank, Luis Capoto, has resigned after only three months in post. Caputo's departure comes as the government of President Mauricio Mauri is struggling to contain fall out from a 36-hour general strike, triggering a five per cent slide in the peso on Tuesday. (£)
Ryanair has cancelled 190 flights on Friday, or about eight per cent of its scheduled roster, to take account of strike action across Europe. Strikes are set to take place in Spain, Belgium, the Netherlands, Portugal, Italy and Germany, and will affect up to 30,000 passengers. Ryanair's cabin crew and pilots have staged a campaign of industrial action during the summer in a long-running dispute over pay and working conditions.
Markets
What happened yesterday?
Undeterred by simmering global trade tensions, clothes retailer Next surged to top the day's gainers on the FTSE 100, leading the London market to close on a fresh monthly high at 7,507.56 points, up by 49 or 0.7%.
 
Next jumped eight per cent upon raising its guidance for annual profit, after trading in August and early September was better than expected. Group pre-tax profit is now expected to be £727 million in 2018, broadly in line with last year, despite previously predicting a figure £10m lower in May. Other retailers including Marks & Spencer (up 0.56%) and Primark-owner Associated British Foods (up 1.15%) also ended the day in the green.
 
Gains in the mining sector were matched by losses in aviation as the price of Brent crude rallied to a four-year high above $82 a barrel. Glencore (up 3.48%), BP (up 2.91%) and Shell (up 2.41%) all benefitted from the price rise, while British Airways-owner IAG (down 3.96%) and easyJet (down 3.29%) ended the day in the red. Analysts from IG were quick to attribute the market's success on Tuesday to the gains made in oil, suggesting that OPEC's ability to squeeze oil prices despite a declining share of overall output is on the wane.
 
On the currency markets, the pound was up 0.3% on the dollar at $1.32 and 0.1% stronger on the euro at €1.12.
Finals              
Accrol Group Holdings 
Allergy Therapeutics    
James Halstead
Town Centre Securities
 
Interims          
AA       
Armadale Capital         
Amryt Pharma 
Billing Services Group Ltd.
Boohoo Group 
Centralnic Group         
Corero Network Security
Crawshaw Group         
Destiny Pharma
Minds + Machines Group Limited (DI)   
Novacyt S.A. (CDI)        
Pelatro
Summit Germany Limited
 
Trading Announcements
Futura Medical
Halma
Mitie Group
NCC Group
PZ Cussons       
SSP Group
Trifast 
AGMs
Argo Group Ltd.
Fulcrum Utility Services Ltd. (DI)
Gateley (Holdings)       
Hornby
IMImobile
Legendary Investments
Nakama Group
Enteq Upstream          
PZ Cussons
Scholium Group
Tavistock Investments
 
GMs       
Griffin Mining Ltd.
 
UK Economic Announcements
(09:30) BBA Mortgage Lending Figures
(11:00) CBI Industrial Trends Surveys
 
Intl. Economic Announcements
(12:00) MBA Mortgage Applications (US)
(15:00) New Homes Sales (US)
(15:30) Crude Oil Inventories (US)
Columns of Note
Writing in The Times, Katherine Griffiths suggests there is little evidence that Brexit has motivated an exodus of banking workers from the City. Among three groups identified by PwC of City relocaters – including permanent moves for regulatory reasons, commuters and short-term "secondees" – the first is by far the smallest. Griffiths suggests that although she expects more to be enticed to Frankfurt or Luxembourg as Brexit approaches, for those who wish to pursue a high-flying banking career in Europe, London is still the place to be. (£) 
Natalie Nougayrède comments in the Guardian that the way to beat populists is to stop talking about immigration. Instead, liberal-minded politicians from the centre ground should point out the dangers that populists pose to basic democratic rights and the rule of law. Although immigration is still a central question for the UK in Brexit negotiations, the rest of Europe seems to have moved on and Remain-minded politicians in the UK would benefit from acknowledging the new political zeitgeist if they are to make headway with plans to stop Brexit.
Did you know?
Balloon syndrome is a rare condition that hedgehogs can suffer from when they inflate like a balloon due to trapped gas. 
Below is a picture of Zeppelin, a hedgehog who swelled to a circumference of 76cm before treatment allowed him to be released back into the wild healthy by the Scottish SPCA in April 2018.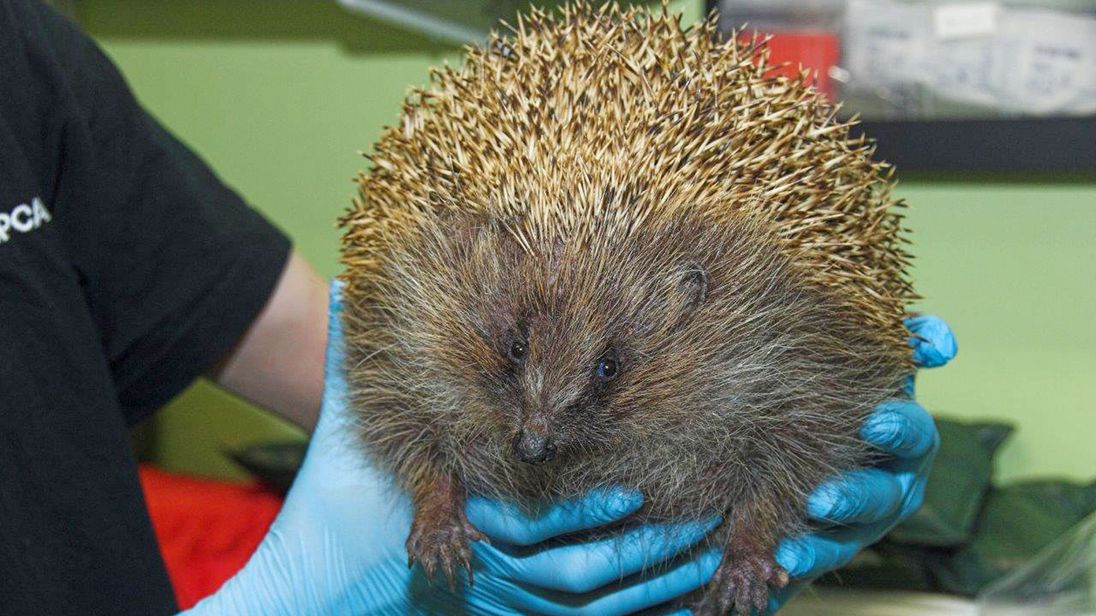 Source: Sky News
Parliamentary Highlights
TODAY

House of Commons
In recess until 9 October.

House of Lords
In recess until 9 October.

Scottish Parliament
Portfolio Questions
Government Business and Constitutional Relations
Culture, Tourism and External Affairs

Ministerial Statement
Common Agricultural Policy

Dignity and Respect in Scotland's Scoial Security System

Scottish Government Debate
Supporting and Protecting Human Rights Defenders

TOMORROW

Scottish Parliament
General Questions

First Minister's Questions

Members' Business
Paternity Leave and Tackling Inequality

Scottish Government Debate
Scottish Government Support for Veterans and the Armed Forces Community